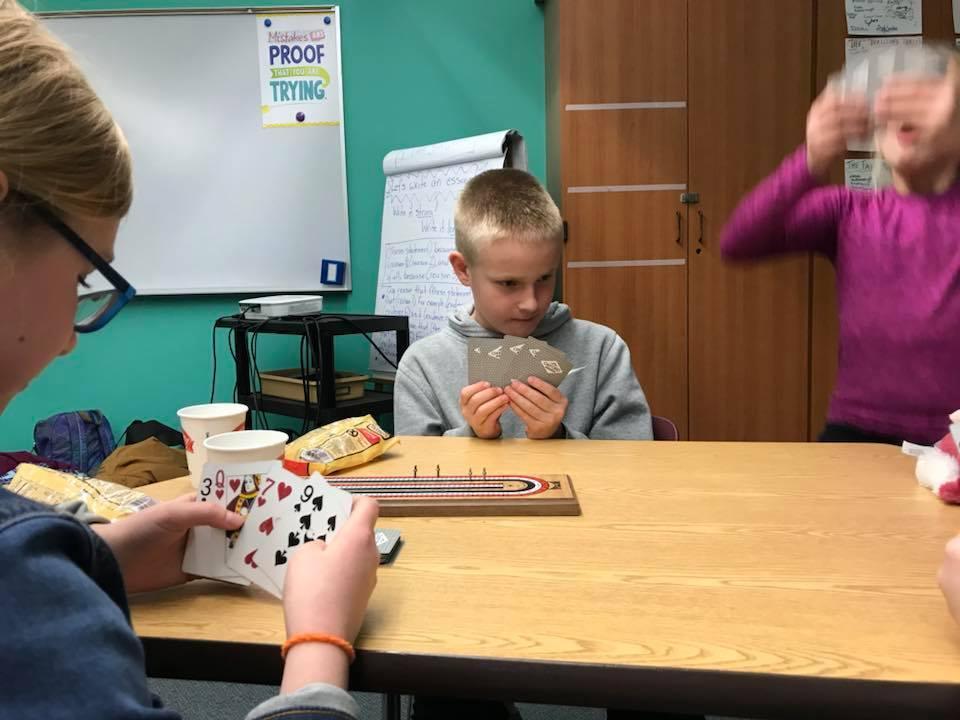 CRIBBAGE CLUB
"15 for 2, 15 for 4, a run for three and a flush for 4 makes 11" "31 for 2" " Three of a kind is 3 pairs, for 6" Just some of the crazy language you might hear from room 101 when the Cribbage club is in action. Not everyone loves math as I do, but playing cribbage it so much fun we forget we're using all kinds of math skills. That's the idea behind this fun-filled afternoon of cards.
"Friends (old and new), a snack (sometimes the highlight of the session), laughter (lots of it), cards and sometimes a little friendly competition is what The Cribbage Club is all about. 4th and 5th-grade students are encouraged to join in the fun with Ms. Pfeffer and Mrs. Vogel on Tuesday afternoons from 3:15 to 4:05. Parents can pick their child up at 4 or ride the late bus home at 4:05.
No prior skill is required, just a willingness to learn a fun and exciting game of suits and numbers as we race around the cribbage track to cross the finish line first. Depending on the number of players each week we paly in doubles, threes or pairs.
There are two - 9-week sessions. The first runs October to December and the second runs February to April (ending just before vacation). Sign-ups are easy - the announcement is made here at school and permission slips are available from homeroom teachers, Mrs. Terri in the office, Ms. Pfeffer or right here online. Only 12 students are accepted per session. Students can attend both sessions if they choose (and make the cut off).
The 2019 and 2020 dates are as follows.
Session1 October 1,8,15,22, 29, November 5,12,19,(none on the 26th) and December 3.
Session 2 February 11,(none on 18th),25, March 3,10,17,24,31 and April 7 and 14.